Rickie Fowler was the early leader at Erin Hills after firing a first-round 65 that only four players have ever bettered on a US Open Thursday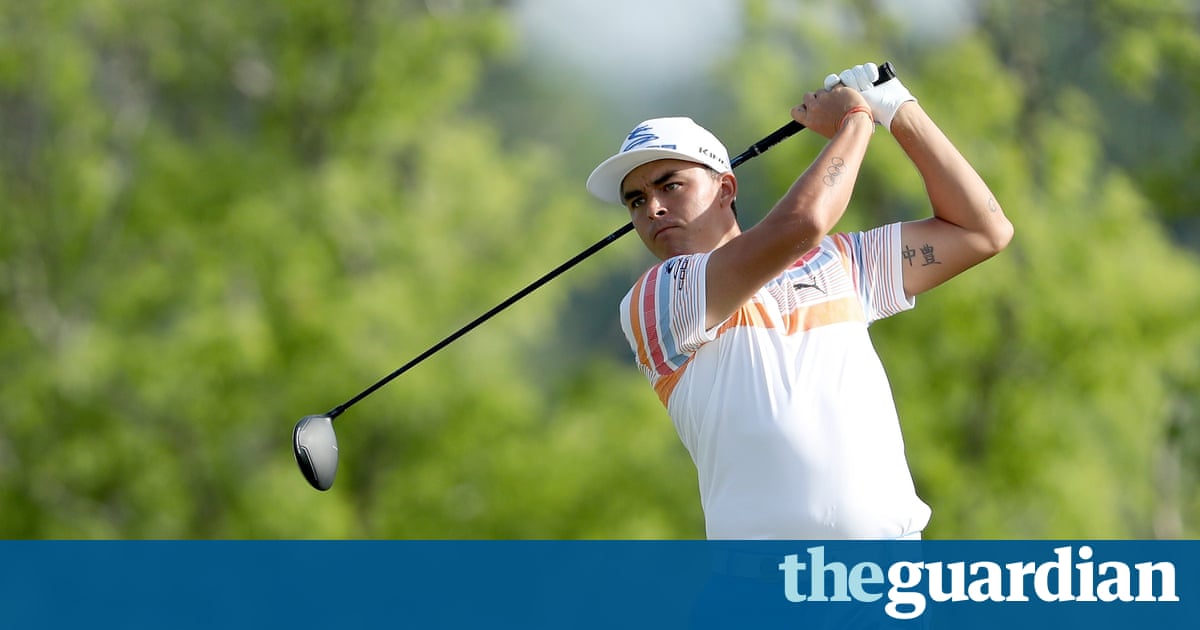 What Erin Hills gave to Rickie Fowler it menacingly took back and some from his illustrious chums. Anyone labouring under the illusion that the US Open, an environment famed for brutality, was going soft after Fowler charged to the top of the leaderboard with a 65 was swiftly corrected. Day one casualties were of the highest profile.
Dustin Johnson, 75. Jordan Spieth, 73. Jason Day, 79. Rory McIlroy, 78. Hideki Matsuyama, 74. The worlds top five ranked golfers were all unable to break par, with their aggregate score on Thursday of the 117th US Open a staggering 19 over. The prospect of a blue chip exodus from this major by Friday evening is live.
McIlroy at least has a decent excuse, this marking just his second competitive start since the Masters because of the rib injury which has disrupted his season. The Northern Irishman was always likely to be punished here for rustiness and duly was, spending too much time wading through thigh-high rough than would be healthy for anyone.
I didnt hit a fairway after the 10th, McIlroy said. You cannot play this golf course if you are not in position off the tee. I paid the price for that today.
I feel fine, I was hacking around in the rough and didnt feel the injury one bit. My timing was just a little bit off.
If McIlroys stumble was a slow burner he was level par after 10 Day found himself seven over after 11 holes having carded two triple bogeys in the same round for the first time in his PGA Tour career. This marked his worst ever US Open score.
I just played bad golf, said Day. I cant put it any other way. Some good stuff was mixed in with an awful lot of poor stuff.
This was the creation of history Fowler was perfectly happy to accept but immediately of a mind to look beyond. Only four players have ever produced a lower US Open first round than the 65 Fowler signed for here. This matched the all-time score under par, seven, for a US Open Thursday. Not a bad start, in other words.
The 28-year-old has wider aspirations, however. Fowler is seeking to end a career wait for a major which undermines his status as one of this sports marquee players.
Its always cool to be part of some kind of history in golf, said Fowler. But Id rather be remembered for something thats done on a Sunday.
There are a lot of really good players out here that havent won a major. So it would be nice to get rid of that at some point. Im not saying that this is the week or isnt the week but I like the way this golf course suits me.
Whilst Fowlers ability isnt in doubt, the shock was that he finds himself in such prominence at the second major of the year. The US Open hasnt been kind to the Californian, who has missed cuts in this event four times, including each of the past two years. Fowlers aggregate score in the five US Open rounds before this was 27 over par.
Just dont mention to Fowler that his start was blissfully easy. You dont get many rounds at the US Open that are stress-free, he said. I just did a good job. I knew I needed to drive it well; from there I was able to hit good shots and roll a couple of putts in. So, it was a simple day when you look back on it, and how we kind of pieced our way around the golf course, but it is a lot easier said than done.
The first thing is getting off to a good start Thursday, keeping that rolling and getting ourselves in contention Sunday. Theres a lot of golf to be played but Im ready to be out there contending.
Brooks Koepka, Tommy Fleetwood and Brian Harman all carded 67s. They were later upstaged by Paul Casey and the little-known Xander Schauffele, who marched into second place thanks to 66s. Schauffele began this week as the world No352.
Lee Westwoods 69 was highly credible. Andrew Beef Johnston matched Westwoods Thursday tally; how others would have gleefully traded places.
I hit the ball phenomenally well, insisted Spieth. I just didnt make anything on the greens. I missed one fairway today, which is maybe the best driving round Ive had in my life.
I had 15 looks at birdie, all of them makable, and holed one of them. It was just a really off day putting-wise but Ill figure it out. I cant change anything about my approach; if I get that many looks, normally I would shoot eight under par.
Johnson, who partnered Spieth, pointed towards similar putting woes. Fleetwood, conversely, enjoyed a terrific day on the greens in hand as he signed for his 67. His stunning 2017 shows no sign of slowing in pace.
The thing I told myself was not to do anything stupid and ruin it, just to play sensible golf and see what came along, said the Englishman. I started at the 10th and that was a perfect example of the approach I took. I aimed 15ft from the flag, hit the spot I wanted, and made a nice putt for birdie.
That sort of set the tone for the round. The course was gettable, but only if you went about it the right way. There were enough high scores out there to prove that point.
Ideal Wisconsin conditions ensured confirmation that Phil Mickelson wouldnt participate arrived by mid-morning. Mickelson, who attended his daughters high school graduation in San Diego on Thursday lunchtime, needed a lengthy weather delay in order that he could take his place in the field. This now becomes the first major since the 1994 Masters to take place with both Mickelson and Tiger Woods as absentees.
Amongst those who did play, but perhaps wishes he didnt, was Danny Willett; the struggles of last years Masters champion continued courtesy of an 81. The Yorkshiremans only solace for now resonates in glories of the past; his toiling has become painful viewing.