The comedian and social media star on overnight Insta-fame, the weird world of fashion and embracing her comedy skills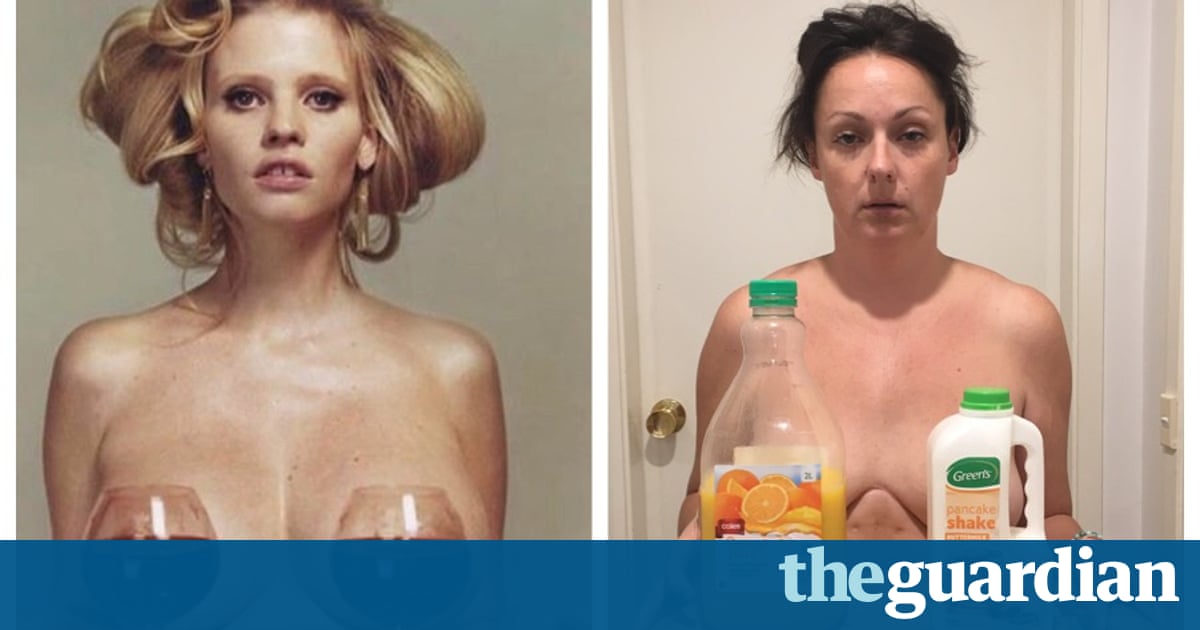 Celeste Barber has a drinking game in her new standup show, called Allowed; Not Allowed. During the game the Australian comic displays social media snaps showing people in various stages of undress and asks the audience to guess which have been allowed to stay up and which have been taken down by the moderators.
Often the difference, she says, comes down to appearances: One of them is a banging hot model and the other one is, well, me.
Barber could be described as a social media star, entertaining her 1.8m Instagram followers every few days with posts that contrast often outlandish celebrity fashion images with real-life reenactments, all in aid of #celestechallengeaccepted.
Theres model Kate Upton smouldering in a wet T-shirt as she emerges from a swimming pool; theres Barber clambering out of a pool, butt first. Theres a barely dressed Kim Kardashian posing against a pile of sand; theres a similarly clad Barber reclining awkwardly against gravel.
The parodies are cheeky and funny and speak volumes about the depiction of women in celebrity culture. And while it all started out as a joke exchanged between Barber and her sister before she put the pics online for everyones enjoyment, shes also thrilled they resonate a deeper level.
I never started out for it to be a body positive thing or be like, fuck yeah. It was always like, this is how celebrities get out of the pools [and] Im like no, this is how you get out of the pool.
Even though its unintentional, shes happy for the images to be seen as a comment on sexism in the media. I totally identify as a feminist, but Im even more so now without knowing I was one. All of a sudden, Im like oh yeah, Ill march and shit, because Ive got a voice.
For all her Insta-fame, Barber is no overnight social media success story. The actor and comedian first appeared on Australian screens in hospital drama All Saints, with stints on Home & Away and comedy series How Not to Behave.
She is currently filming new ABC comedy The Letdown, which was recently picked up by Netflix for international distribution. Written by Alison Bell and Sarah Scheller, the show is about a mothers group and gives a very funny and raw look at just how hard motherhood can be.
Shes so stoked to be on the Letdown, but jokes that she doesnt know what shell do if it goes to a second season. If that then means Ive got to work with toddlers [instead of babies], Im out. Ive got kids. I was like: So were going to have toddlers? Why dont we just get dogs and chimps in as well?
In conversation, Barber is as quick-witted and self-deprecating as her Instagram account suggests, but she hasnt always embraced her funny side: I think I was annoying as a kid … Ive always thought funny was silly, funny was dumb, a bit stupid.
It was her All Saints co-star, the late Mark Priestley, who told her to make full use of her comedic talents. He was the one who was like: No, this is just funny, not everyone can do that. Stop being an idiot, wrap your head around it. I then went: Ah, theres something in that.
Id always get offered or audition for the funny stuff, [but] I was like, Im a theatre actress, I can do Lady Macbeth. It turns out, Im woeful at that stuff [but] I can do funny well. So instead of running away from it, Im now obviously embracing it.
Given most of her subjects are from the fashion industry, she is finding herself increasingly adopted by that world something she finds amusing, considering how little she thinks about it. And while she enjoys the performance art aspect of someone like Lady Gaga, she finds the pretentiousness irritating. I get a little miffed with fashionista people thinking that they are much better than other people because they are very slim and have architect husbands and get to wear free stuff. Its a bit [like they are] rubbing your nose in, This is how we live, sorry guys and that bums me hard.
While her social media success has opened doors, shes not one to wait for things to happen. Ive never been good at saying, well Ill just wait for an audition, Ill go in and hopefully Ill get it. Ive always done my own [work], I like having that control over it.
She booked the venue for the standup show herself and is excited, and a little daunted, by it. It will be an insight into her Instagram world: I find it all very indulgent, and believe it or not, Im not that indulgent with myself. Im essentially standing up and talking about myself but I think thats what people want to hear, so it will be fine.
She hopes to tour the show nationally and then perhaps internationally. There, weve just announced it, she jokes. One day, shed like to host a late-night talk show in the US. Chelsea Handler did it but shes on Netflix. Whoopi Goldberg did it a few years ago. There are no women and there are no Australians. I could totally do that, I reckon.
After that, the skys the limit: Then Ill run for president or something. Well, it turns out any numpty can do it, so why not?
Celeste Barber Challenge Accepted is at Giant Dwarf theatre, Sydney on 30 June and 1 July